The deadline to submit a claim was November 14, 2022. We are no longer accepting claim submissions.
*Distribution Announcement*
Payments to approved Undocumented Claims began on June 27, 2023. All cheques will be mailed on June 29, 2023. Interac e-Transfers will be sent in batches beginning June 27, 2023 and ending by July 5, 2023.
An example Interac e-Transfer is duplicated below: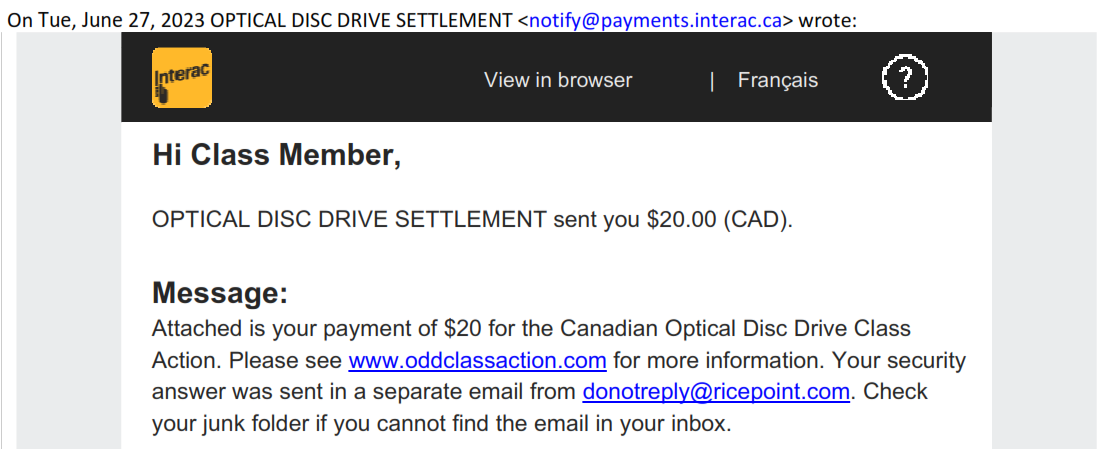 If you receive an e-Transfer payment and have not registered for automatic deposit of e-Transfers through your financial institution, you will need a security password to deposit your payment. Your security password is your 8-digit Claim ID number. An email was sent on June 26, 2023 from [email protected] containing your Claim ID number. If you cannot find the email, please check your junk folder
We are aware of an issue when attempting to deposit Interac e-Transfer payments into CIBC and Simplii bank accounts through the CIBC and Simplii websites. Our understanding is you may be able to deposit the e-Transfers through the CIBC and Simplii mobile app. If you do not have a mobile app or are still experiencing issues, please notify us by email at [email protected]. Failed e-Transfer payments will be sent a cheque (without any deductions for mailing costs) at a later date.
Approved Documented Claims will be paid as soon as practicable after claim evaluations and any appeals are completed.
---
This website is the claims portal for class actions that were commenced in British Columbia, Ontario and Quebec alleging that numerous ODD manufacturers and distributors (the "Defendants") conspired to fix the prices for ODD, with the intention of raising prices for both ODD and ODD Products sold in Canada.
ODDs are any device which reads and/or writes data from and to an optical disc. ODD Products are desktop computers, mobile/laptop computers, video game consoles, CD players/records, DVD players/recorders and Blu-Ray disc players/recorders.
Settlements totaling CDN$29.7 million were reached with BenQ, Hitachi-LG, NEC, Panasonic, Phillips, Pioneer, Quanta, Sony, TEAC, and Toshiba Samsung (the "Defendants"). The settlements were approved by the requisite courts. The settlements are a compromise of disputed claims and not admissions of liability. The settlements resolve the litigation in full.
The British Columbia and Quebec Courts approved a protocol for distributing the Net Settlement Amount. The settlement funds (less approved fees and expenses) are available for distribution to eligible claimants. 
Subject to further court order, approved undocumented claims will be paid $20 (per claim, not per product) and do not require proof of purchase. If you wish to be eligible to receive more than $20, proof of purchase is required. However, even if you provide proof of purchase, if you purchased a small volume of ODDs and/or ODD Products you may not receive more than $20. This will depend on the number and size of claims filed by all class members.
The remainder of the settlement funds (after paying undocumented claims) will be distributed on a proportional basis, based on the value of your claim relative to the value of all approved claims.
The value of your claim for the purpose of determining your share of the settlement funds will be calculated based on:
(a) the number and type of ODDs or ODD Products purchased; and
(b) your position in the distribution chain 
See the FAQ page for more information.
Documents
Looking for more information about the class action? Please review the Documents page of the website.
Read them here